Christening Gowns
At Sunday Best we provide a wide range of beautiful Christening Gowns for baptism, naming ceremonies, baby showers, or other special occasions. Our collection includes, the Heirloom, Shires, Classic ranges as well as our Exclusive range. While all of these product lines are made of high quality material and are excellent designs in their own right, from well established design labels, such as Little Darlings and Sarah Louise, it is the exclusive range which is a point of particular pride for us, which we have had designed for us under the Rosemarie Taylor design label, utilising our hard won expertise in Christening wear, in order to produce a product range which we know our customers are looking for.

Our different product ranges are there in order to allow you a real choice about the type of gown you want for your baby's special day. While there is a large variation in design themes - even amongst single ranges – all of the products are high quality designs, using the top quality materials in order to create a christening gown which you will find ideal for your baby.
Click here to view our Christening Gown Collection.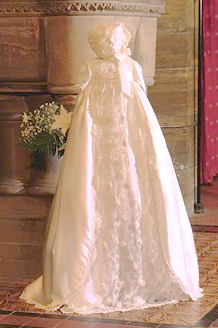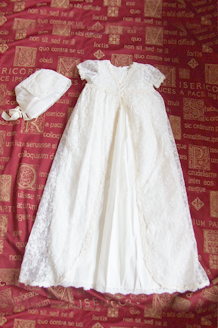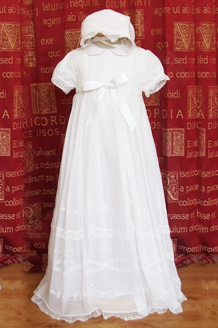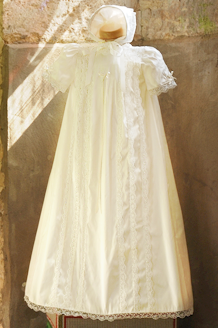 Heirloom Collection Shires Collection Classic Collection Exclusive Collection
Christening Outfits
We also provide a large array of christening accessories, so that you can complete your baby's outfit. These accessories are specifically selected to compliment our baptism gown and outfit ranges. Our accessories include:
• Headdresses and Bonnets
• Footwear and Baby Shoes for Boys and Girls
• Cover ups, Coats, and Baby Cardigans
• Bibs & Shawls
• Sundries, Childrens Ties, Baby Girl's Petticoats

We also have a number of gifts, which make an ideal present for your baby's christening. This would include a range of silver gifts, jewellery, and Celtic crosses, as well as some wonderful hand-made teddies.
Baby Gown
By looking at our christening gown category you can find a number of different designs, such as a silk baby gown, or a satin baptism gown. Within this category you will find a number of different designs, some of which are more suited to your baby girl's christening than a boy's; in which case, take a look at our Christening Romper collection for an ideal baby boy's christening outfit, which is just as extensive a range, giving you further options for your baby's special day.
Click here to view our complete range of Christening Gowns or contact our friendly team today.
We specialise in quality christening gowns and baptism wear, made in England and have further enhanced our offering with the addition of our bespoke service. We provide a wide range of Baptism Wear and Outfits for your baby's special day. Our range includes: christening gowns, dresses, outfits, baby gown, shoes and accessories.